Hi Everyone!
The Ma'ale Adumim Yom Ha'atzmaut celebrations will start Wednesday night at 20:00 in Central Park (the main park behind Kikar Yahalom).
The Hebrew flyers are posted below.
April 18, 2018 – Eve of Independence Day
20:00 – Israel Independence Day Celebrations
Location: Central Park
On the eve of Israel's 70th Independence Day, as part of the torch-lighting ceremony at Mount Herzl, a mass-singing event of the song "Hallelujah" will be broadcast live from dozens of cities in Israel and around the world, including Ma'aleh Adumim.
Residents of Maale Adumim are invited to the main stage in the central park on Wednesday, May 18, at 20:30, to sing "Hallelujah" together with a professional moderator, thus taking part in the
broadcast of the song on the largest live broadcast ever made in Israel.
Wear a white short.
21:00 – Singers Eliad Nachum and Benaia Barabi will be the featued singers in Central Park
There will also be performances by youth groups.
There will be two fireworks rounds in Ma'ale Adumim. Derech Hagai (street near the fireworks rocket launches) will be closed twice between 20:45-21:15 and 22:15-22:45
At 22:30 Standup comediain Hen Mizrachi will perform in Hebrew at the Cultural Center. Tickets 70-105 shekels at the Cultural Center
02-544-4100
At 22:30 in the "Ha'chatzer" hall in Kikar Yahalom
the group "Ben Ha'mietarim" will perform songs Israeli songs from the beginning of the state.
Tickets are 60 shekels including light meat refreshments. Tickets via the Matnas
April 19 – Yom Ha'atzmaut
>>> Between 11:33am and 12:50pm Israel Air Force planes and helicopters are scheduled to fly over Ma'ale Adumim.
On Yom Ha'atzmaut, the Hayaaran Forest picnic area will be open for picnics.
There will be inflatable children's structures and handicraft workshops.
There will also be army and fire department exhibitions.
There will be a welcoming event by Mayor Kashriel at 11:00am
The entrance to the the area (by car) is located on the right side on the highway 3/4 down the mountain traveling from Jerusalem to Ma'ale Adumim.
There will be hourly bus rides to the picnic area starting at 9am. The bus will pickup people every whole hour at city hall.
The Moshe Castel Museum will be open from 10:00-17:00 Adimission will be free on Thursday.
FYI: Per the Hebrew newspaper, today there are 9,700 households in Ma'ale Adumim with a population of around 41,000.
This week I added several new cool Israel videos
to the large Israel video list at:
www.jr.co.il/videos/israel-videos.htm
Enjoy!
Happy Israel Independence Day!
Yom Ha'atzmaut Sameach!
Jacob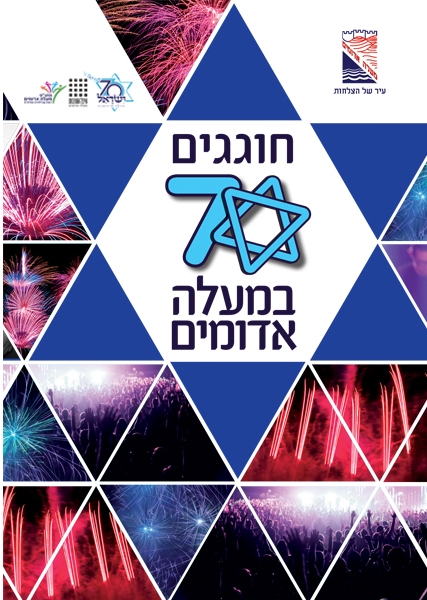 Update: I just added below the Hebrew flyer with the list of davening and dancing at Sdeh Chemed.
April 18, 2019
Location: Schoolyard of Sdeh Chemed
19:45 – Festive Maariv
20:30 – Musical Entertainment – Mati Shriki and Menachem Ophir
21:00 – Chikdren's play Melech Hamidbar
21:30 – Dancing and singing with a band